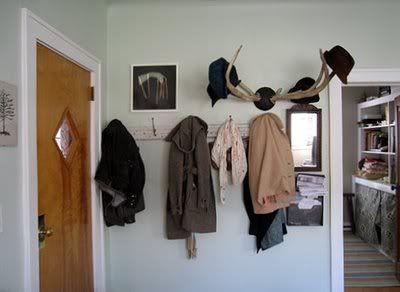 this is exactly what i want. here is why-----
1) the blue is perfect. i'm still looking for "that" blue in my entryway/living/dining rooms (yeah, they're all smushed into one). i tried out a couple swatches of Benjamin Moore's Iceberg blue and let me tell you: it was a horrifying pale baby blue:
looks perfect here, right? not on my walls for some reason.
2) the antlers are not the focus. i like antlers, but they suck up all of the glory of a space. it looks like they belong in this entryway, as opposed to here, here, and here.
3) it's casual and very functional, yet inviting. this is what i'm going for.